Certificate of Enrollment Effective 2011-present                                                                                      
Enrolled Agents: (EAs) are America's Tax Experts.  EAs are the only federally licensed tax practioners who specialize in taxation and also have unlimited rights to represent taxpayers before the IRS.  Enrolled agents advise, represent and prepare tax returns for individuals, partnerships, corporations, estates, trust, and any entities with tax-reporting requirements.  Enrolled agents expertise in the continually changing field of taxation enables them to effectively represent taxpayers at all administrative levels within the IRS.
Only enrolled agents are required to demonstrate to the the IRS their competence in all areas of taxation, representation and ethics before they are given unlimited representation rights before the IRS.  Unlike attorneys and CPA's, who are state licensed and who may or may not choose to specialize in taxes, all enrolled agents specialize in taxation.  Registered tax return preparers have passed a minimal competence test on tax forms for individuals , and have only limited representation rights.

NAEA is dedicated to helping its members maintain the highest level of knowledge, skills and professionalism in all areas of taxation, so that members may most effectively represent the needs of their clients.
NAEA provides valuable services to tax professionals and taxpayers alike. For example, NAEA members are required to complete a minimum of 30 hours of CE each year in the interpretation, application and administration of federal tax laws in order to maintain membership in the organization. This requirement surpasses the IRS required minimum and ensures that taxpayers choosing to use an EA always receive up-to-date guidance reflecting the most recent tax code updates.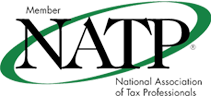 NATP is the largest organization dedicated 100% to tax professionals and their success. We exist to boost your expertise and credibility through unmatched tax education, industry-leading federal tax research, up-to-the minute tax code insights and services and supplies to support your business. Our members know that through their service to taxpayers, they are putting more good into the world.
NATP's Mission – Connecting tax professionals with unmatched education, information and research.
NATP's Vision – To advance the expertise and success of all tax professionals.

Our mission is to position Enrolled Agents to successfully serve their clients.